The Korean Baduk Association was formed as an institution in 1955, and reorganized into a foundation in 1970. The KBA is responsible for administering the Baduk-playing community, organizing all types of events, and in general promoting Baduk. The KBA headquarters are in Hong-ik-dong Sungdong-gu Seoul. The KBA has 231 professional players on their books (as of july 2008).
Chronology
5 September 1955 -Inaugural meeting, founding of the Hanguk Kiwon
9 November 1962 - Registration of the KBA as a juridical corporation (Educational Ministry, institution No. 239)
7 July 1967 - Journal'Baduk' first printed
5 August 1968 - Opening of first headquarters at Jonglo
25 March 1969 - Inauguration of first Chairman Lee Hu-rak
25 March 1970 - Registration of KBA as a foundation (Cultural and Public Information Ministry, Registration No.179)
Hierarchy of the KBA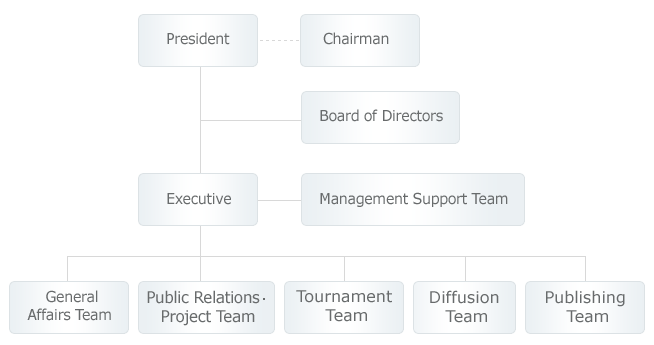 29 September 1994 - Relocation of headquarters to Hong-ik-dong
April 2000 - Launch of World Cyber Kiwon (international site)
Chairmen and Presidents
Chairmen
1 st Lee Hu-rak (Appointed, 25 March 1969)
2nd Kim Wu-joong (Appointed, 15 September 1983)
3rd Kim Wu-joong (Reappointed, 16 April 1990)
4th Kim Wu-joong (Reappointed, 27 March 1996)
5th Han Hwa-Kab (Appointed, 2 February 2001)
Presidents
1st Seo Jung-gui (Appointed, 2 April 1970)
2nd Choi Young-gwun (Appointed, 8 February 1974)
3rd Lee Sung-baum (Appointed, 8 Oct. 1975)
4th Choi Jae-hyung (Appointed, 18 March 1976)
5th Wang Yong-ju (Appointed, 18 March 1976)
6th Chung Su-bok (Appointed, 9 May. 1978)
7th Lee Sung-baum (Reappointed, 27 November 1980)
8th Lee Hong-sik(Appointed, 27 November 1980)
9th Seo Jung-Gak25 (Appointed December 1983)
10th Jang Jae-Sik (Appointed, 30 June 1988)
11th Jang Jae-Sik (Reappointed,21 April 1992)
12th Hyun Jae-Hyun (Appointed, 10 March 1993)
13th Hyun Jae-Hyun (Reappointed, 8 April 1997)
14th Hur Dong-Soo (Appointed, 28 February 2001)
15th Hur Dong-Soo (Reappointed, 25 March 2004)
16th Hur Dong-Soo (Reappointed, 29 May 2008)
KBA Reference Information
Headquarters at 315, Hongik-dong, Seongdong-gu, Seoul (Tel: 02-3407-3800) was open on the 5th of October 1994. It house the administrative offices, the venues for many tournaments, a study suite for professionals, the office of the Women¡¯s Baduk Union, the office of Korea Amateur Baduk Association(KABA) and the Baduk TV Studio.